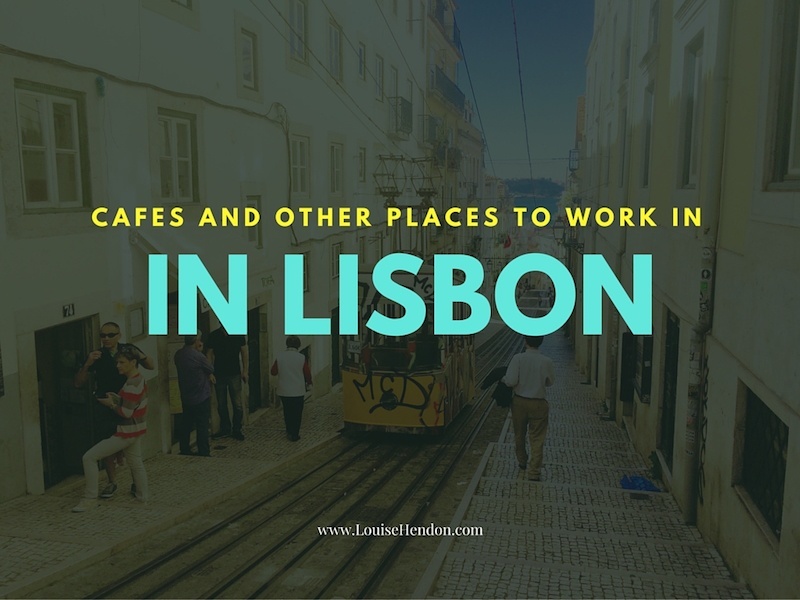 By Louise
I love finding new cafes to work at or to just hang out at for a few hours. Here are some of my favorite cafes in Lisbon (mostly with free wifi) as well as their wifi speeds.
I'll be updating this post throughout the next year (2016-2017) as I find new places. But I have found tethering my phone to be a great way to expand the places I can work at. There are kiosks in every park and square with outdoor seating, which makes them great places to work when the weather is nice (which is most of the time!).
The Mill
R. do Poço dos Negros 1, 1200-335 Lisboa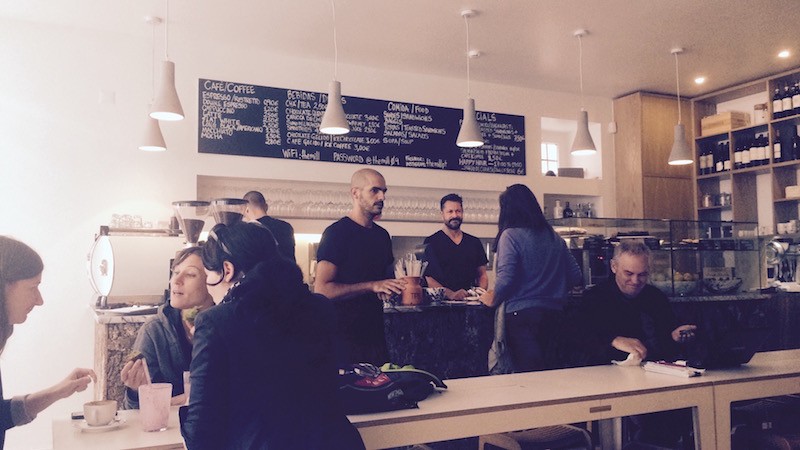 Opening Hours:
Monday – Saturday 08:00 – 23:00
Sunday: 09:00 – 17:00
http://themill.pt

Opened in late 2016, this place has good coffee, excellent breakfast options, and tons of outlets to charge your computer. There's also always a seat available and the wifi is fast. It's open all day long and well into the evening (they serve wine as well).
The cafe is opened by an Aussie, so there's long blacks, flat whites, and vegemite… Come during the daytime and your coffee will be made by an Aussie as well. They usually have 1 gluten-free dessert (an orange and almond cake).

Copenhagen Coffee Lab
R. Nova da Piedade 10, 1200-298 Lisboa
www.cphcoffeelab.pt

This is definitely a popular haunt for those of us who love good coffee, good decor, and fast internet. However, it's often a bit packed at peak hours – so I like to go either super early e.g., at 8am when they open or else wait for after 2pm.
They serve pretty decent Third Wave Coffee, and even their Americano tastes really good. For those of you not into coffee, try their fresh ginger and lime tea – it's made with fresh ginger and lime, and you can get it hot or cold.
On Mondays, many places in Lisbon are closed, but this place is open, which makes Copenhagen Coffee Lab my regular Monday haunt 🙂
If you're planning to make this place your regular work cafe in Lisbon, then get their Loyalty card and save 30%. You basically prepay 25 Euros and then you get to spend 35 Euros there.
The decor is very clean and they serve some foods (mostly Danish pastries, granola, and yogurt).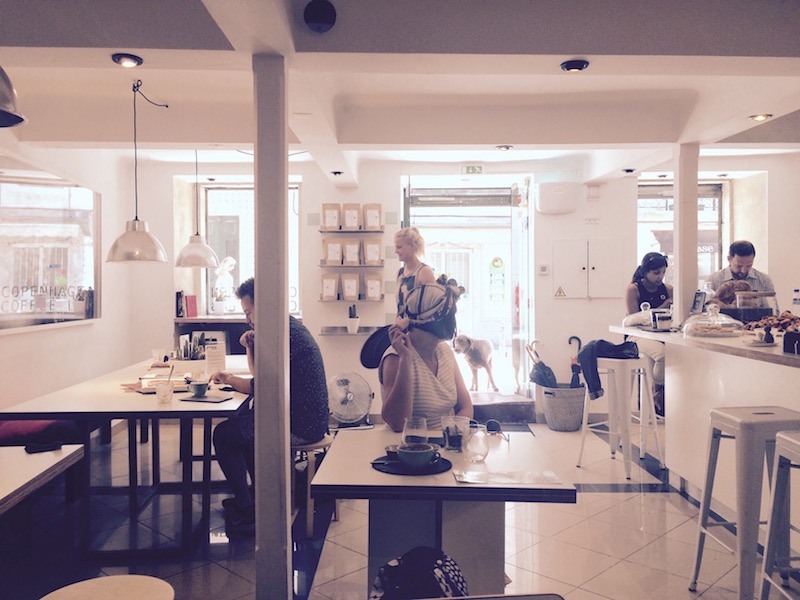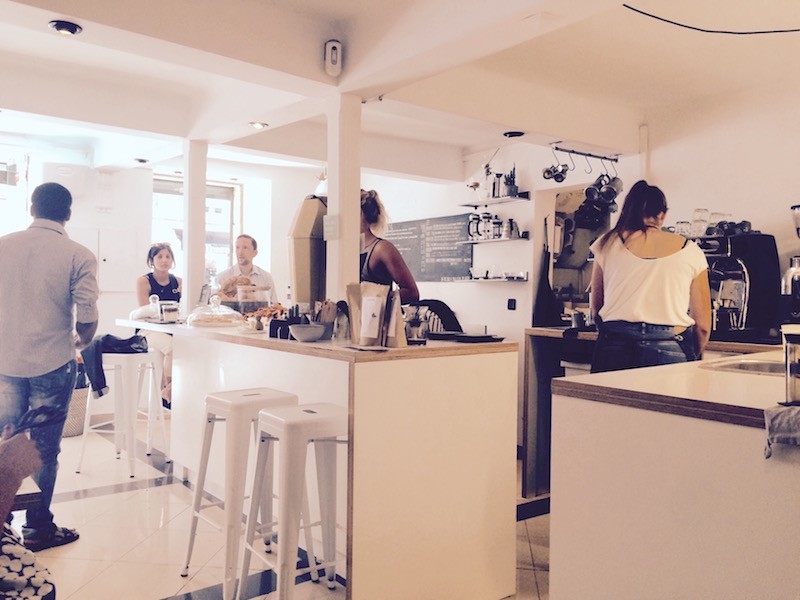 Here's the menu at Copenhagen Coffee Lab: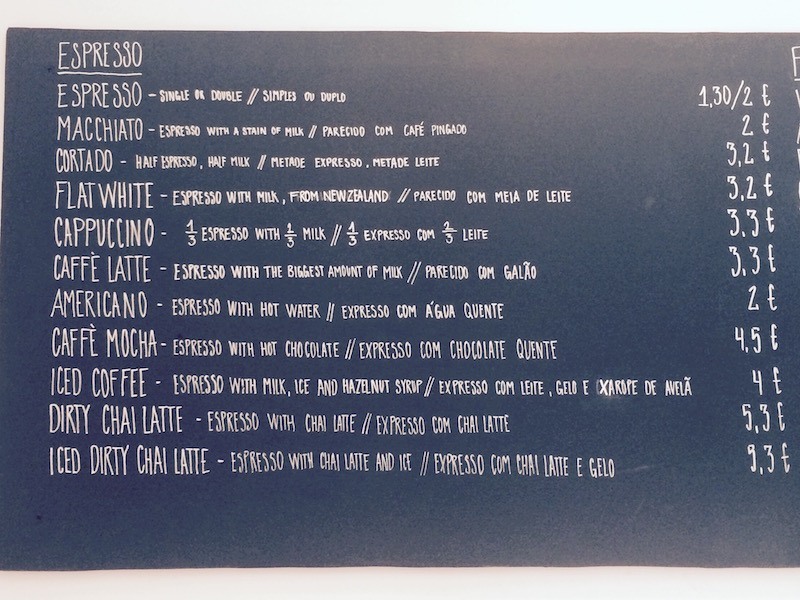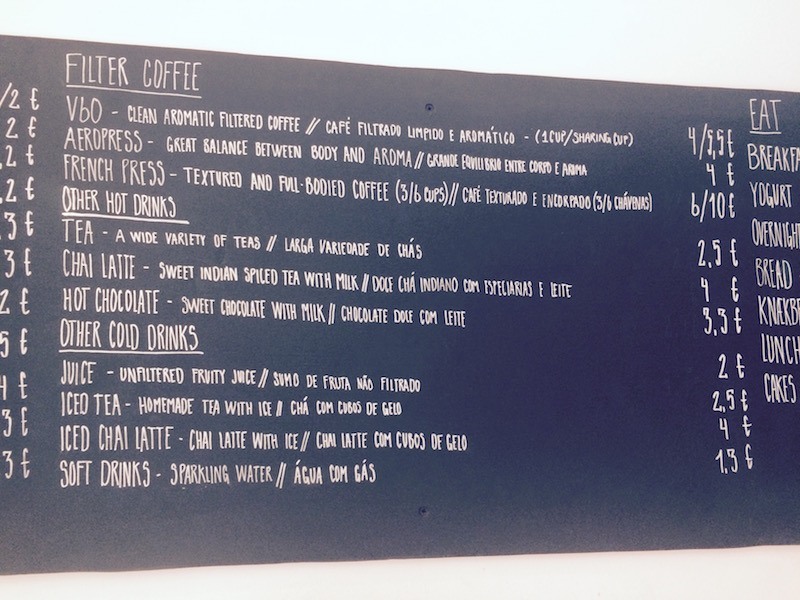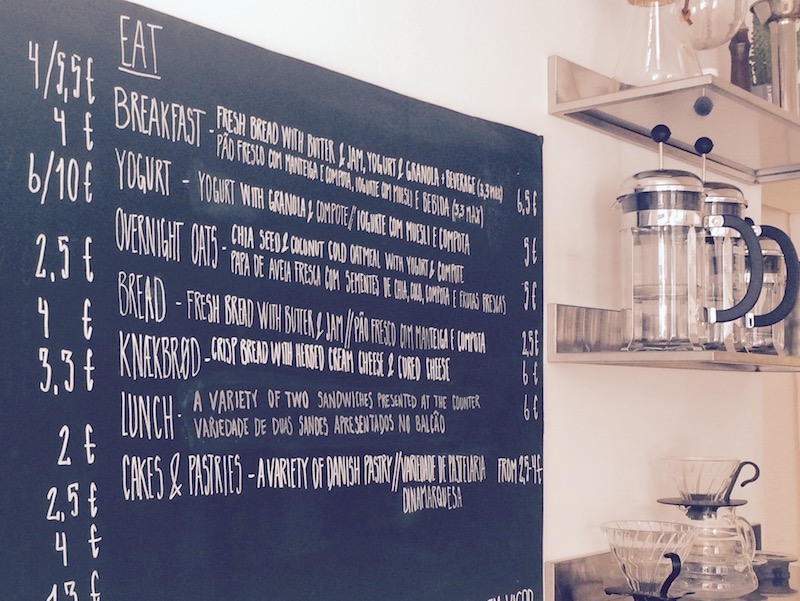 This is definitely my go-to spot to work.
Internet Speed: There's free wifi, and it's pretty fast (one of the fastest free wifis I've found in Lisbon)!

Montana Lisboa Cafe
Rua da Cintura do Porto de armazém A, nº20,, Cais do sodré, 1200-450

This cafe is located just behind the Cais do Sodre train station (which takes you over to Cascais for a couple of Euros). It's got seats indoors with cool artwork hanging on the walls or you can sit in the outdoor section and enjoy the view of the river.
Menu: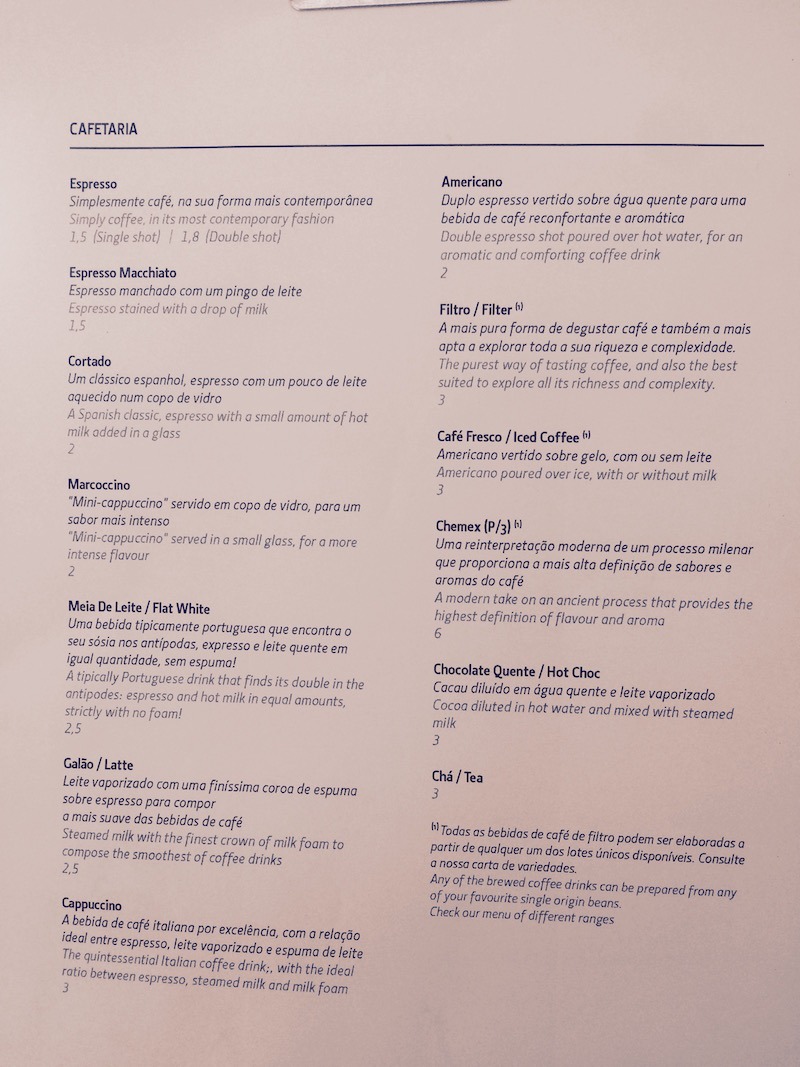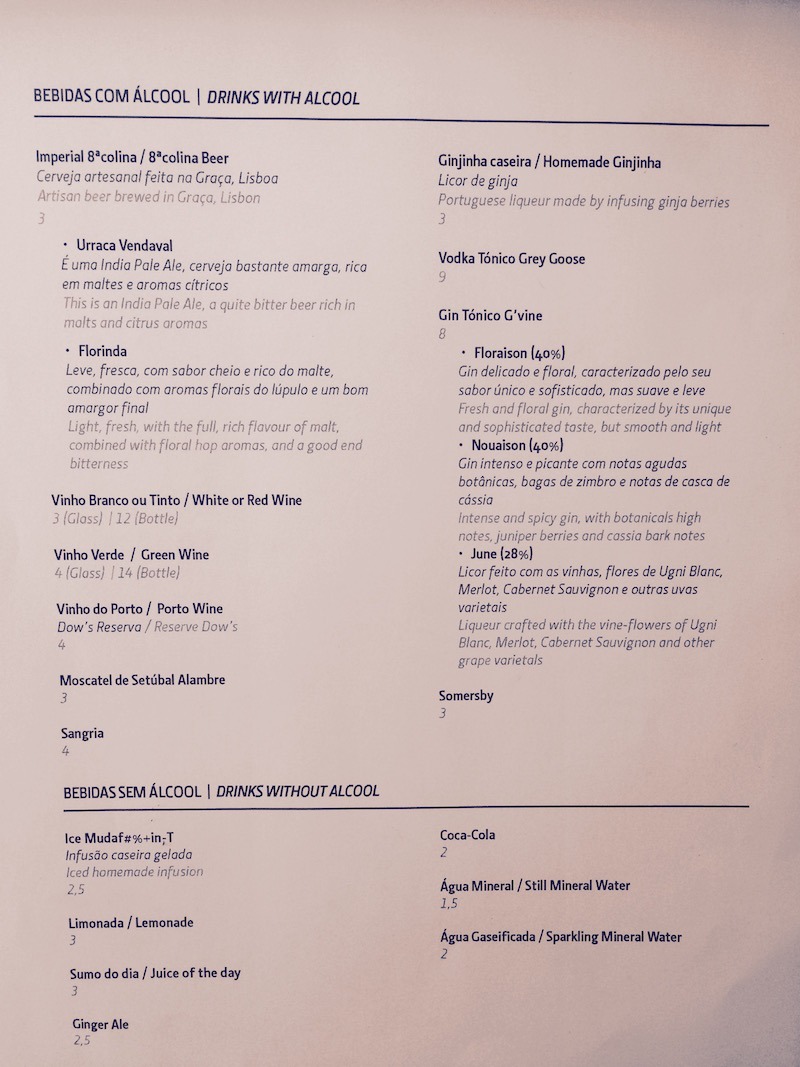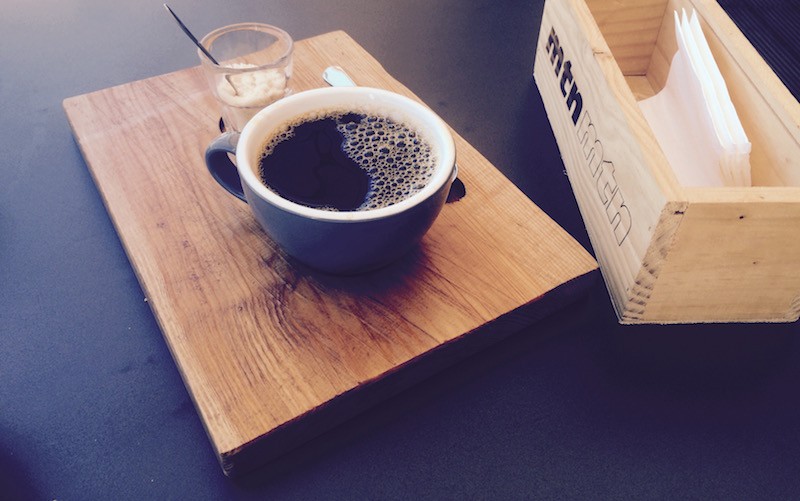 Internet Speed: Free and pretty fast.
A friend found this great care and told me about it because the internet speed here on their free wifi is so good you can take Skype calls here! I definitely found their wifi to be pretty good even sitting outside. My speed test is a bit slower than what my friend experienced (probably inside the cafe).

Hello, Kristof
R. do Poço dos Negros 103, 1200 Lisboa
Hours: Monday-Friday 9am-6pm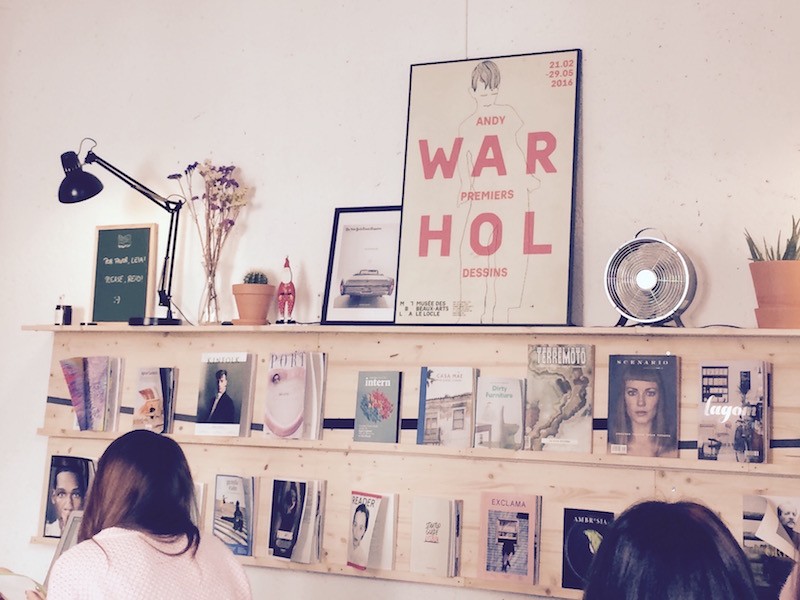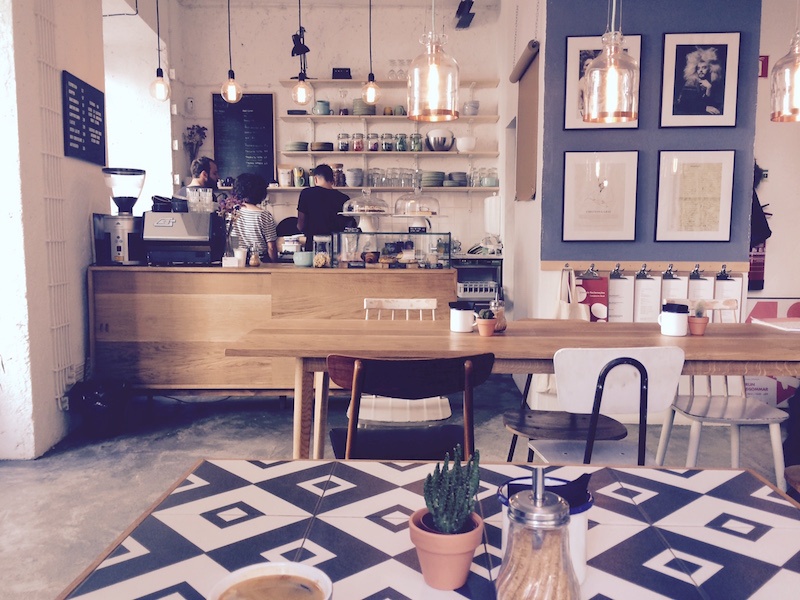 This is a super cute cafe with some gluten-free bread and cakes (get their avocado toast if you're hungry). They serve good coffee and have free wifi too. I would go here more often if it wasn't always so packed. I've gone there many times only to walk on by and head to The Mill instead because there isn't space. It's also only open until 6pm Monday-Friday.
Wifi is ok and there are some outlets (the 3 tables by the wall are the best to get). Otherwise, you'll need an extension cord to reach the outlets well.

Saloia
R. São Bento 102, 1200-816 Lisboa

I'd been walking past this cafe for months and finally stopped in for a coffee. It's cute shop as well as cafe. They sell some vegetables and fruits but also lots of prettily packaged foods that are good as gifts. They also have 1-2 gluten-free dessert options in the cafe.
The coffee isn't great – very typical of Lisbon. But it's a centrally located spot that most expats or tourists don't frequent. While they do have free wifi, it's not super fast.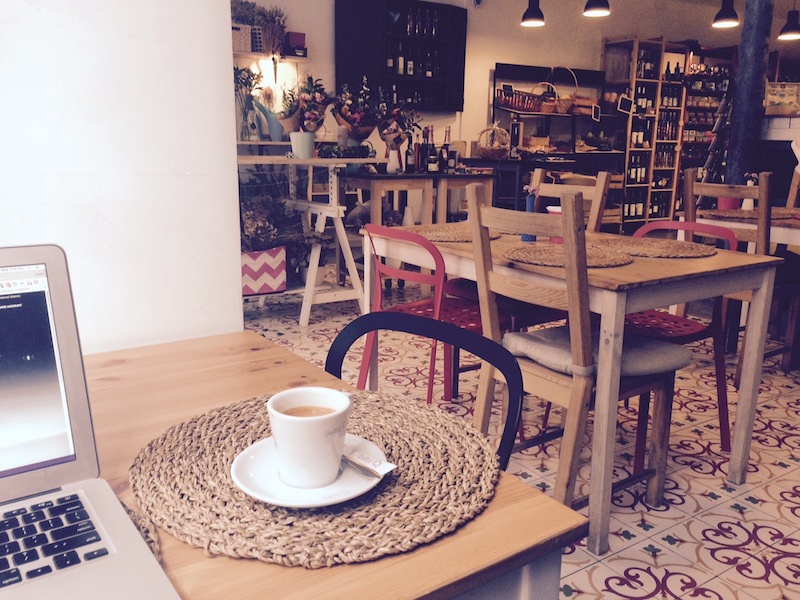 Cafe Ideal
Rua do Loreto 15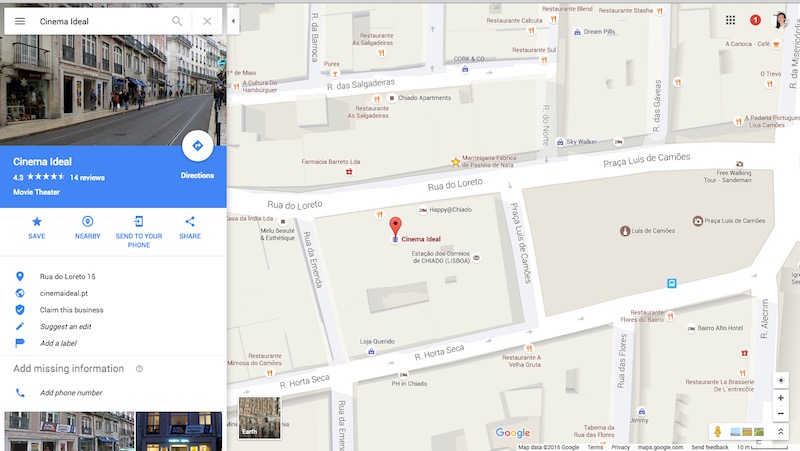 Situated above Cinema Ideal and inside of a small bookstore, this quiet, spacious, and not very crowded cafe overlooks the popular Rua do Loreta and is next to the highly touristy Luis de Camoes square.
Drinks are cheap (1 Euro for an Americano, and they even serve food, including salads and sandwiches for under 5 Euros). And you can sit there for hours – everyone else has a laptop too.
The only downside to this place is that it's only open 3pm-10pm (and closed on Mondays).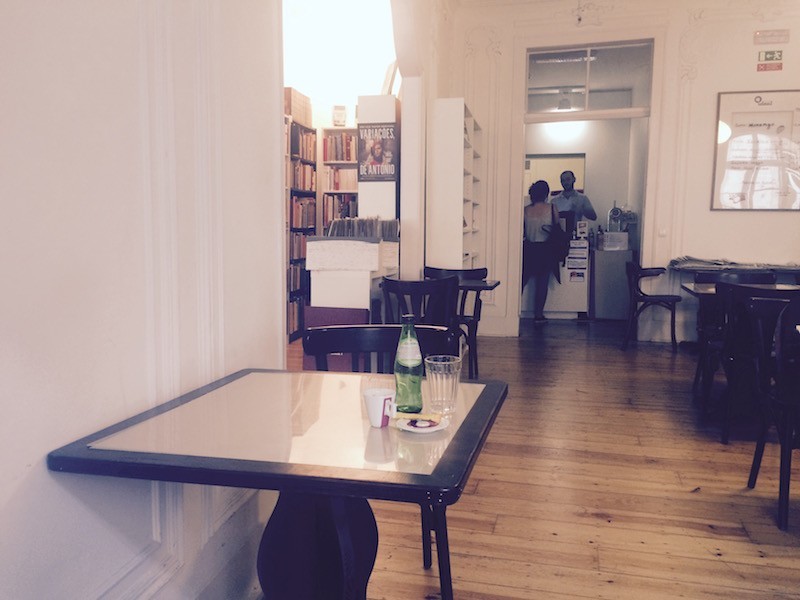 This place is a hidden gem in a very touristy area of Lisbon.
Internet Speed: There's free wifi, but it's a bit slow.

Bettina & Niccolo Corallo
Rua da Escola Politécnica 4, 1250-096 Lisboa

This is actually a chocolate shop but they have a few seats you can rest at. It's a great place to read a book for 20-30 minutes over a good coffee and some dark chocolate. Or choose this place if you're meeting someone for coffee.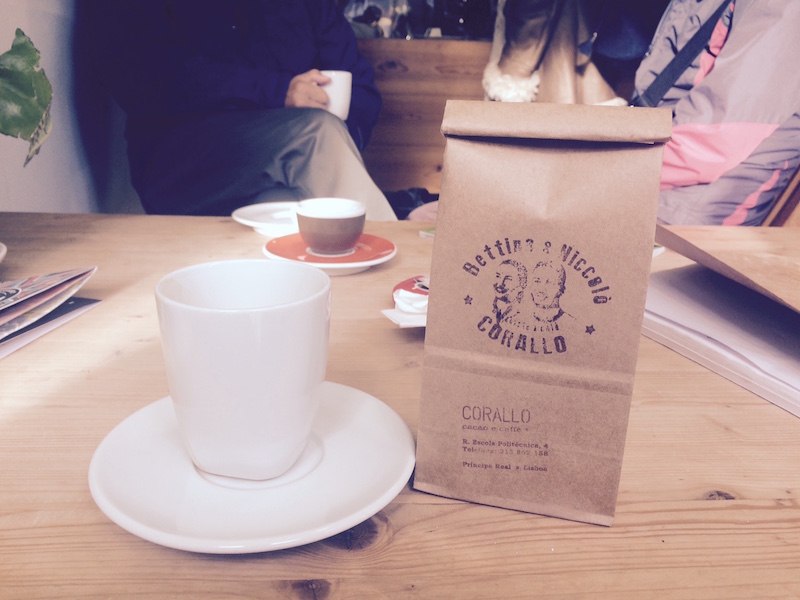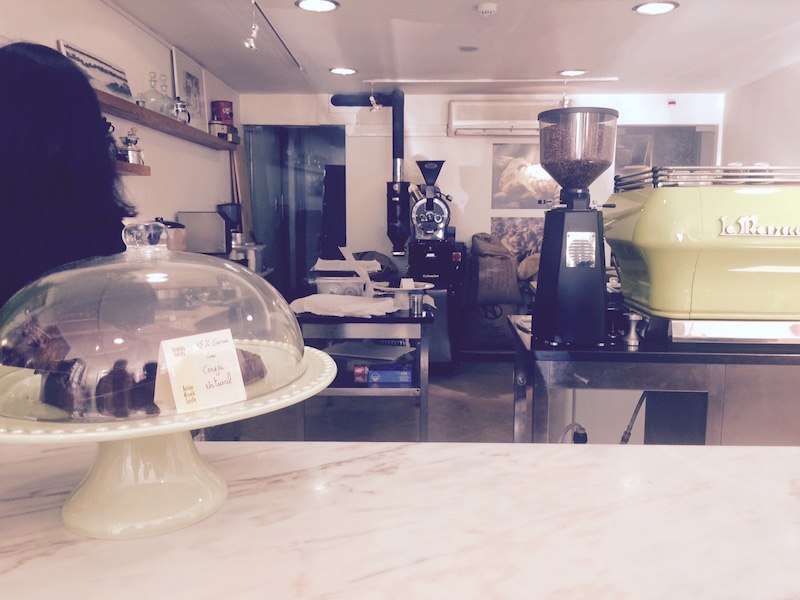 It can get busy on weekends as it's a popular tourist spot. If it's too busy, you can always go across the street to Principe Real park – there are 2 kiosks and a cafe (Esplanada) with free wifi in the park. I've reviewed Esplanada below.
Internet Speed: There's no wifi that I'm aware of. Just chocolate.
Cruzes Credo
Cruzes da Sé 29, 1100 Lisboa
www.cruzescredo.com

This place looks more like a touristy drinks and snacks place, but it's also a great spot to chill and work. There's free wifi (not super fast) and the food is really delicious! The staff there are really nice and they've got some great seating in the shade outside.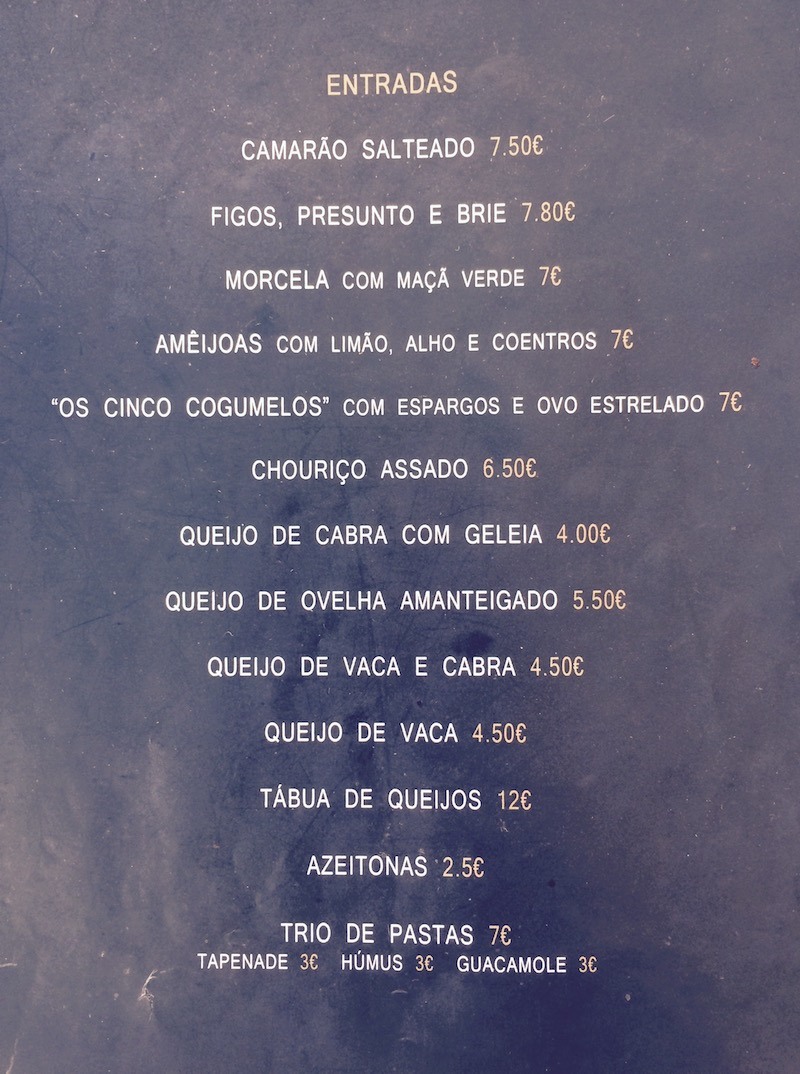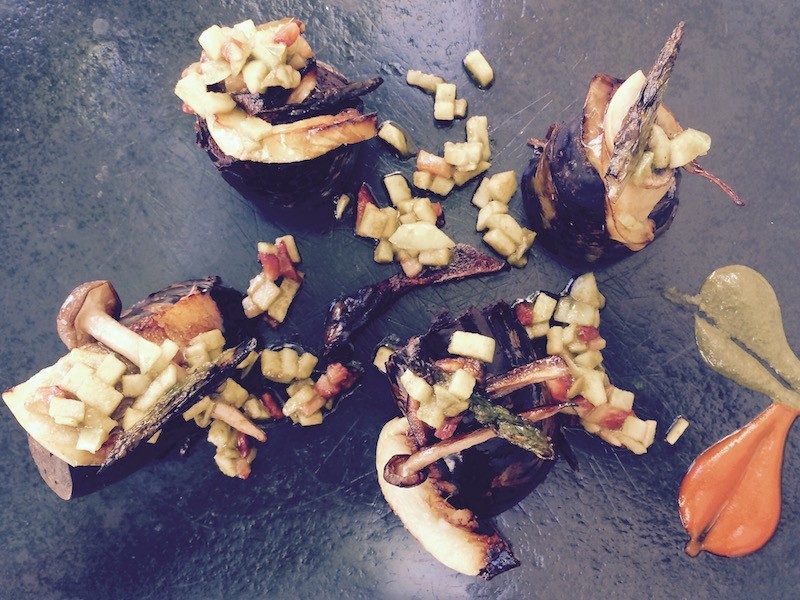 Perfect spot to catch up on emails or read a book and grab some lunch.
Internet Speed: There's free wifi but it was a weak signal since I was sitting outside pretty far away from the actual restaurant.


Pois Cafe
R. de São João da Praça 93-95, 1100-521 Lisboa
www.poiscafe.com

Just down the street from Cruzes Credo, this place is another hub for digital workers. They serve pretty healthy food inside this cafe, and there's tons of seating (at large tables, small tables, or sofas).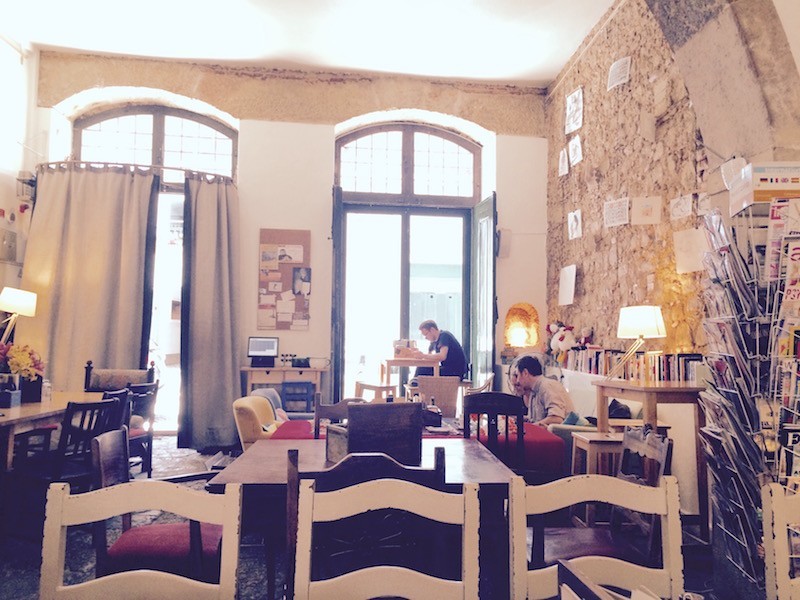 Internet Speed: Internet is ok, but not very fast.
Fábrica Lisboa
R. da Madalena 121, 1100-319
www.fabricalisboa.com
This place has really interesting "old" decorations inside, but it's a bit cramped to sit there for long. (Note that this is a different place to the other Fabrica on this list!)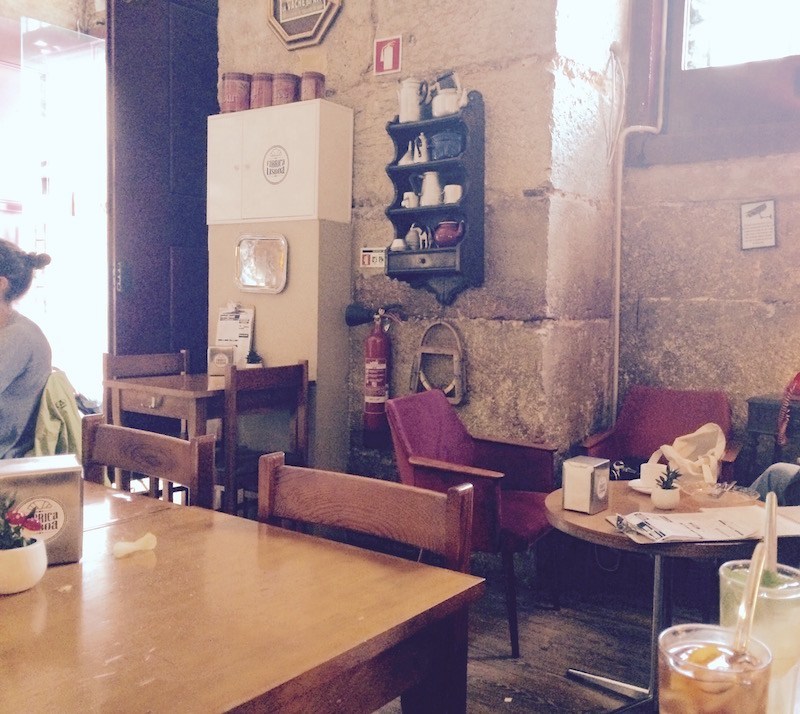 Internet Speed: Internet is ok, but not very fast.
28 Cafe
R. de Santa Cruz do Castelo 45

Decently place to sit at if you're near the Castle (perhaps if you have friends who want to visit the castle and you need to do a spot of work). There's seating outdoors (although not much of a view) or else inside where they have decorated it to look like a tram! They also serve a large selection of foods and drinks (although prices are quite high since it's a touristy location).
Good place to sit and work if you are near the Castle.
Internet Speed: There's free wifi, but it's slow.


Vertigo Cafe
do, Tv. Carmo 4, 1200-095 Lisboa
Mon-Sat: 10:30 am – 7:00 pm

This is a new find and it's just around the corner from my place in Lisbon. They serve food (including a late breakfast since they only open at 10.30am). There are simple salads on the menu as well as sandwiches and omelets. There's even a gluten-free chocolate cake! They serve Kusmi teas, which you can get iced or hot. And they do have free wifi and I've never seen it packed so you can always find a seat as well as other people on their laptops.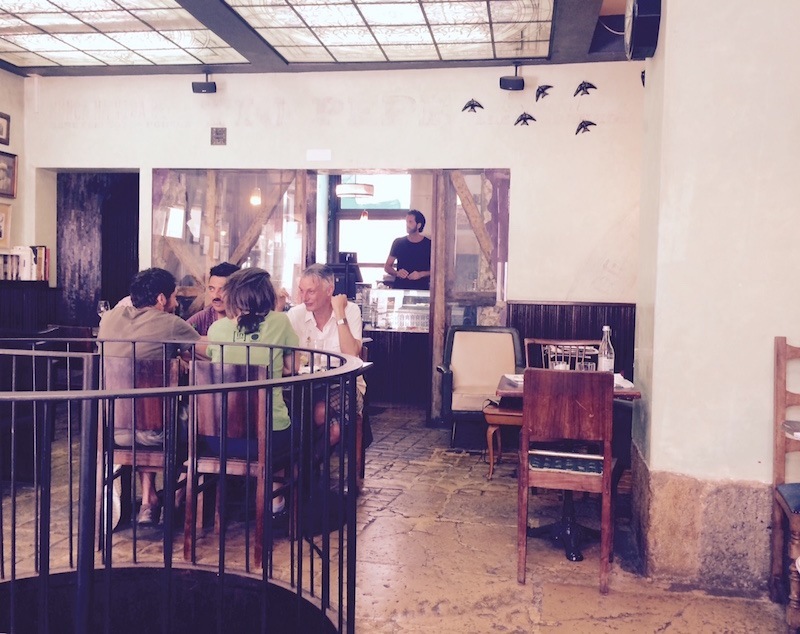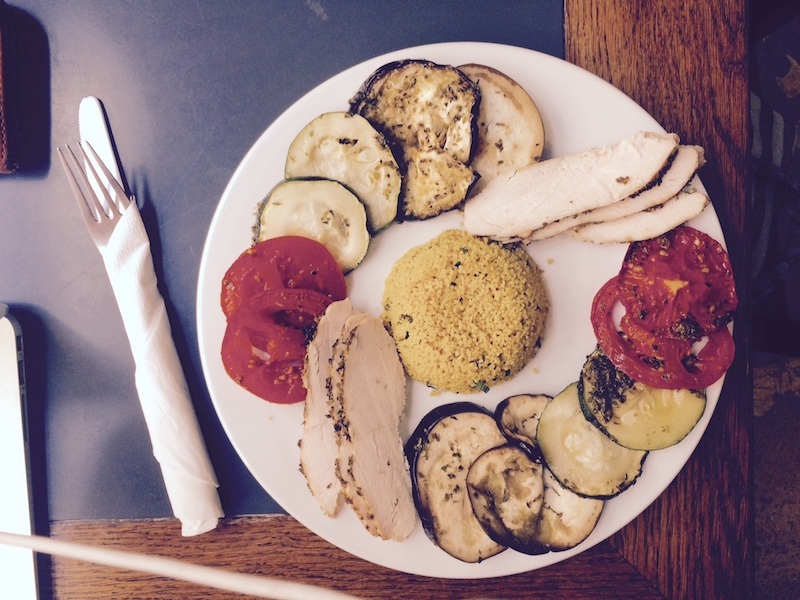 The wifi speed isn't great, but it works (better than tethering your phone here as the reception isn't great).

Esplanada
24, Praça do Príncipe Real 23, 1250-096 Lisboa

This place has free wifi, food and drink, and outdoor and indoor seating. It's right in the middle of Jardim França Borges (Jardim do Príncipe Real) so you get to enjoy the shade of the trees in the park while sitting outside and working. Perfect for a hot day.
The downsides to this place is that the food is expensive and the internet is rather slow (but it's not bad for being outside).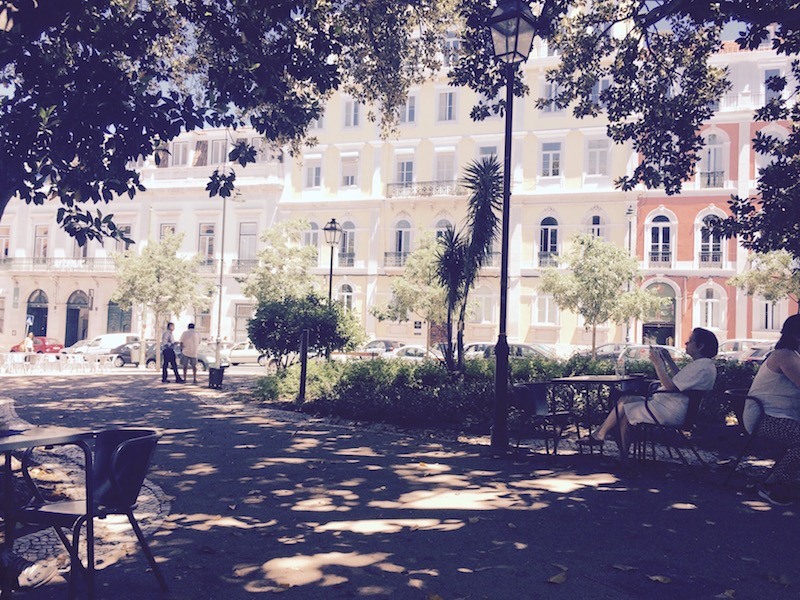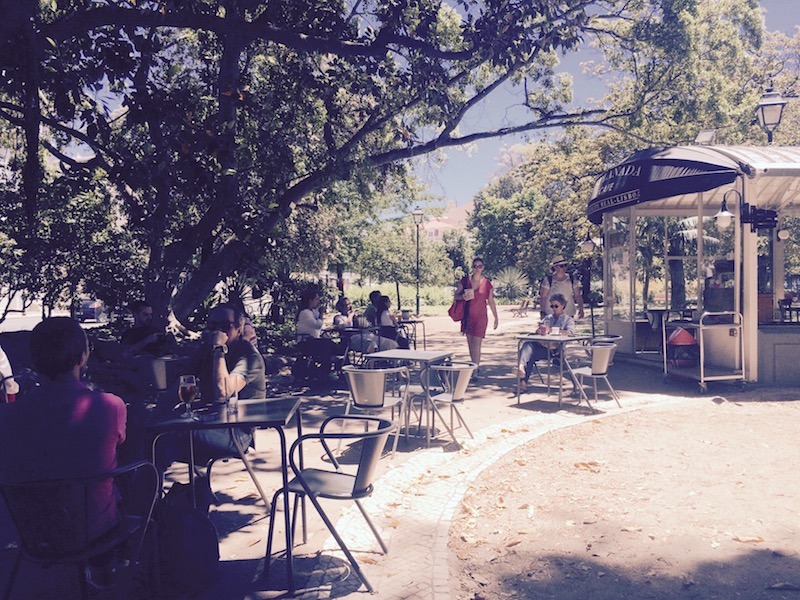 Random Kiosk in Campo Mártires da Pátria
This place was quiet and non-touristy. Just locals enjoying their day. There's free wifi (decent download speed but slow upload).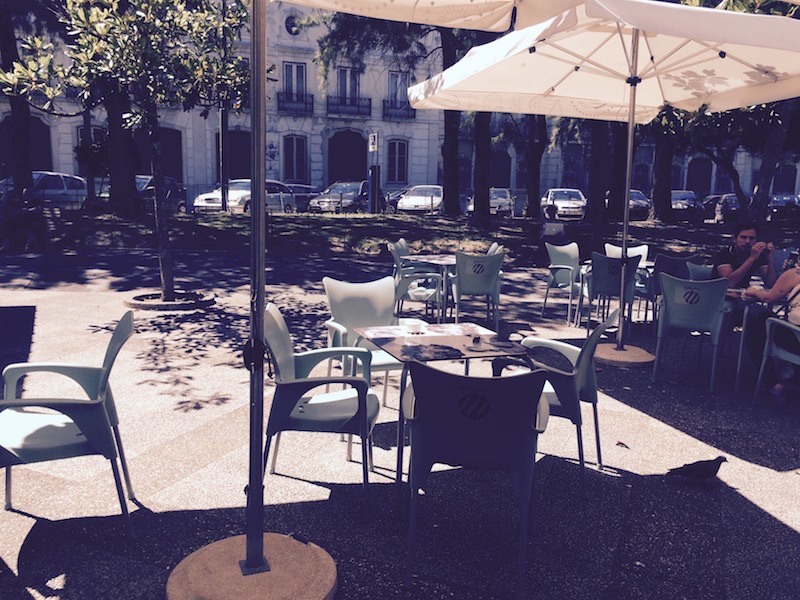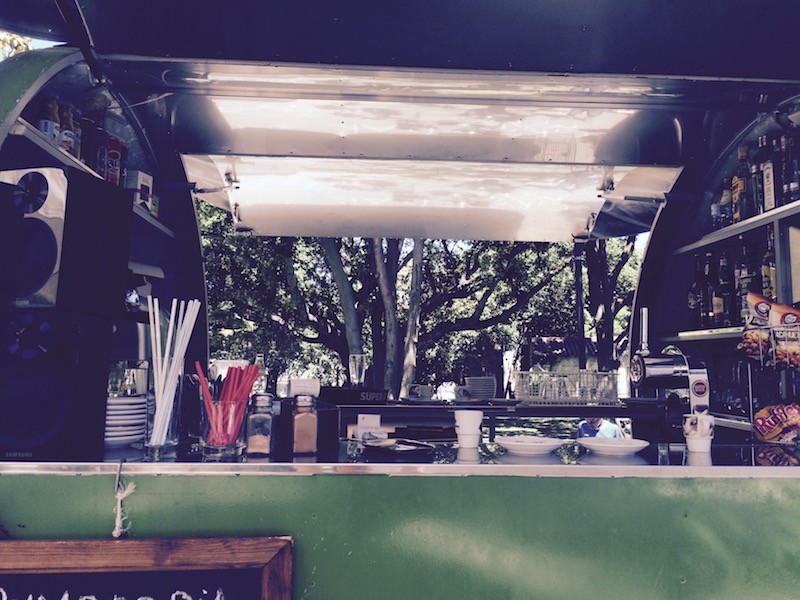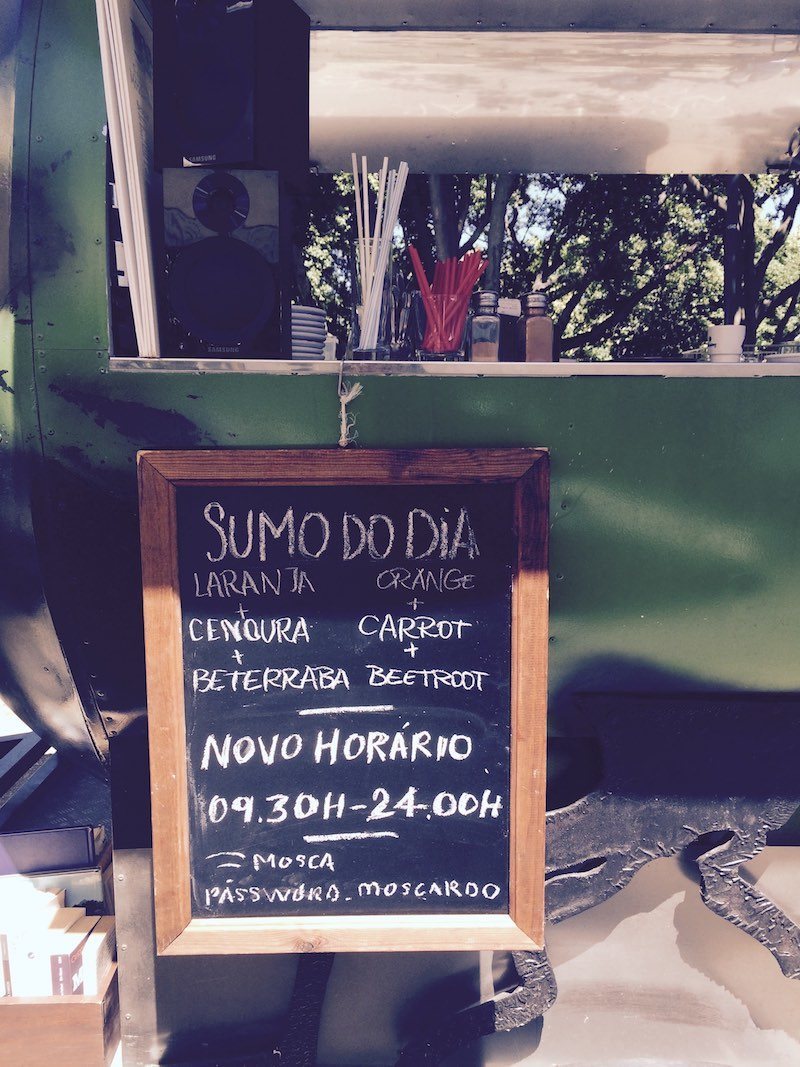 Cafe Tati
R. Ribeira Nova 36, Lisboa

I remember reading about this place as a good place to work before I got to Lisbon, and the recommendation has proved to be very true. This cafe is really close to the Time Out Market, so you can work here for a few hours in the morning (I think they only open at 10-11am and closed on Mondays) and then grab lunch at Time Out. Or Tati also serves lunch (pretty healthy too).
Their espresso coffees are very cheap (under 1 Euro) like most places in Lisbon, and their teas are around 1.50-2 Euros. Wifi is decent, but not great, but they are open til 11pm most days.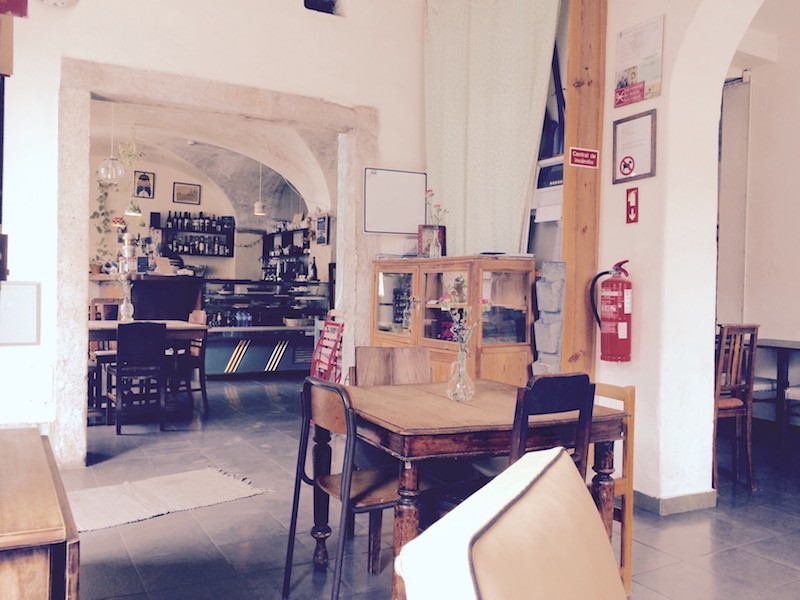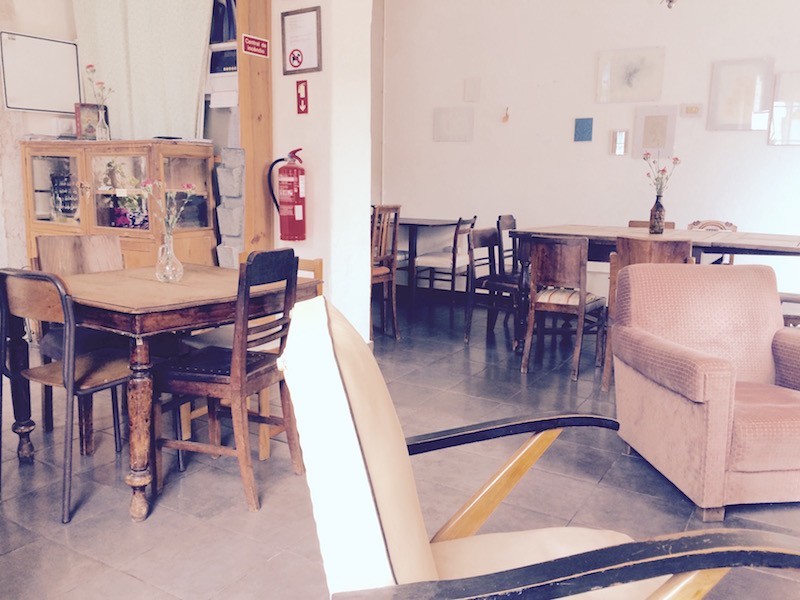 And here's the menu at Cafe Tati: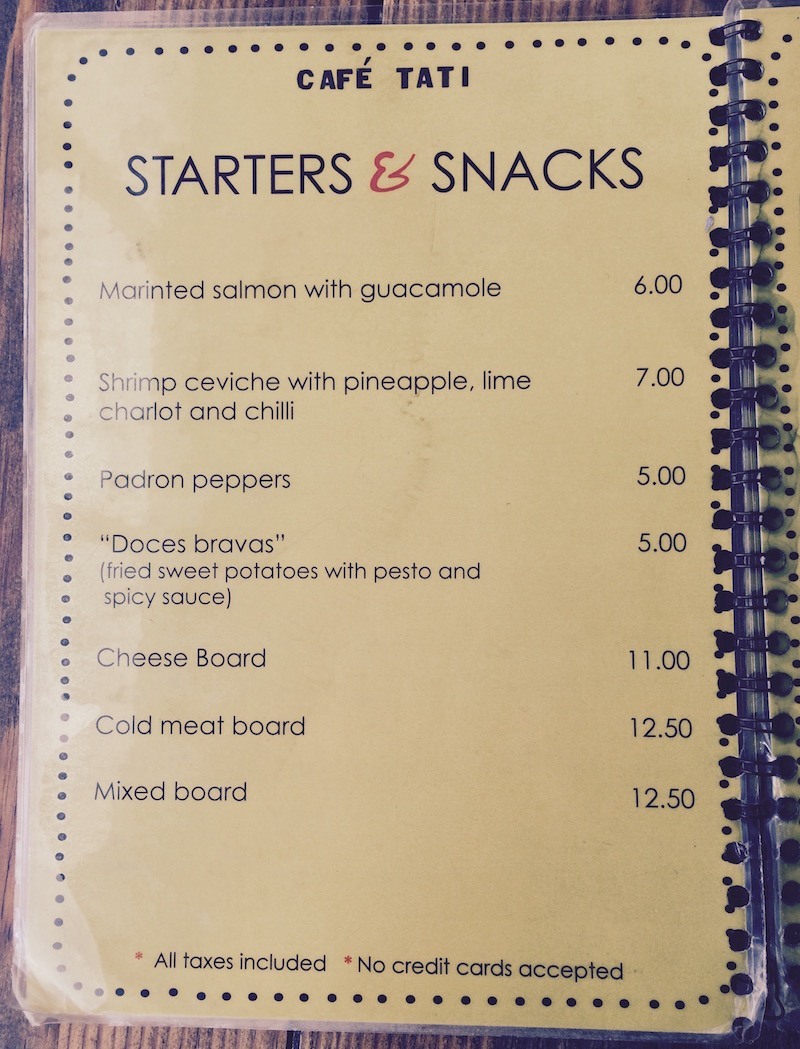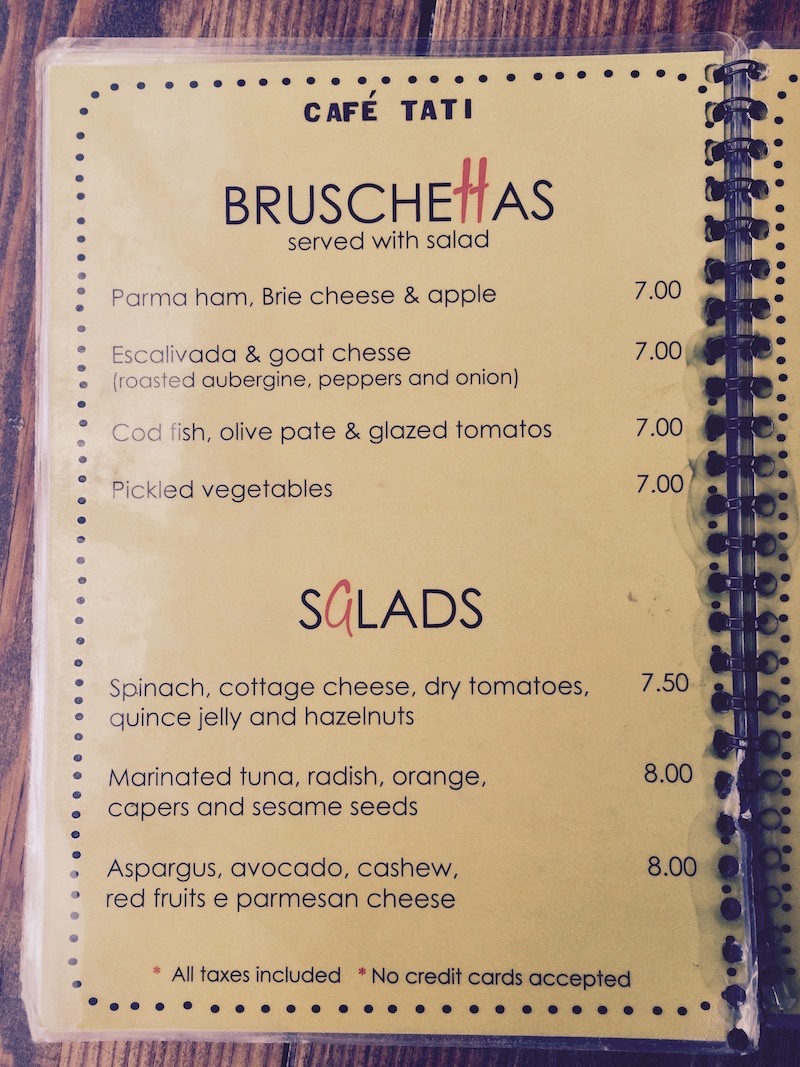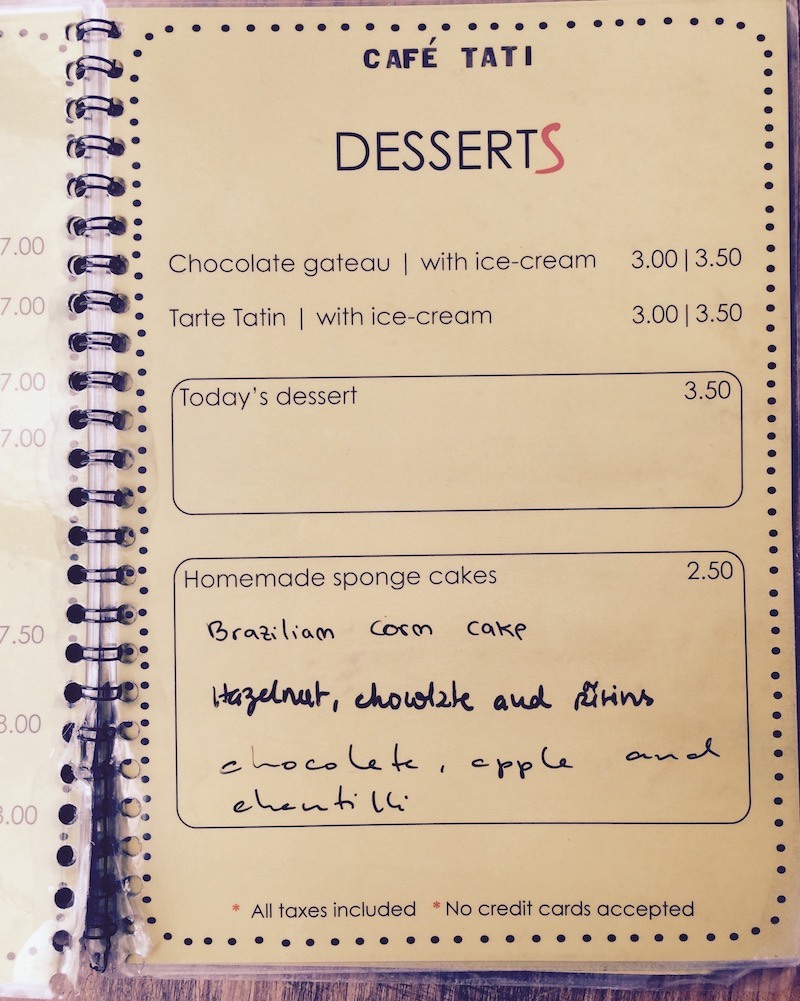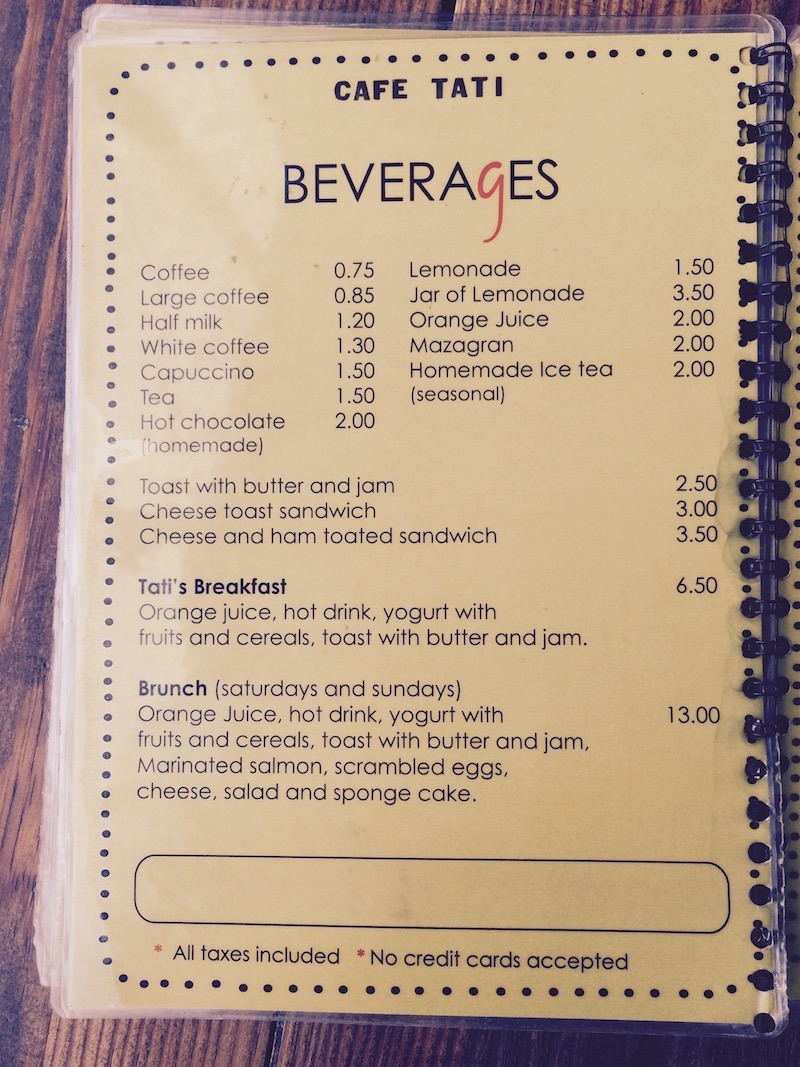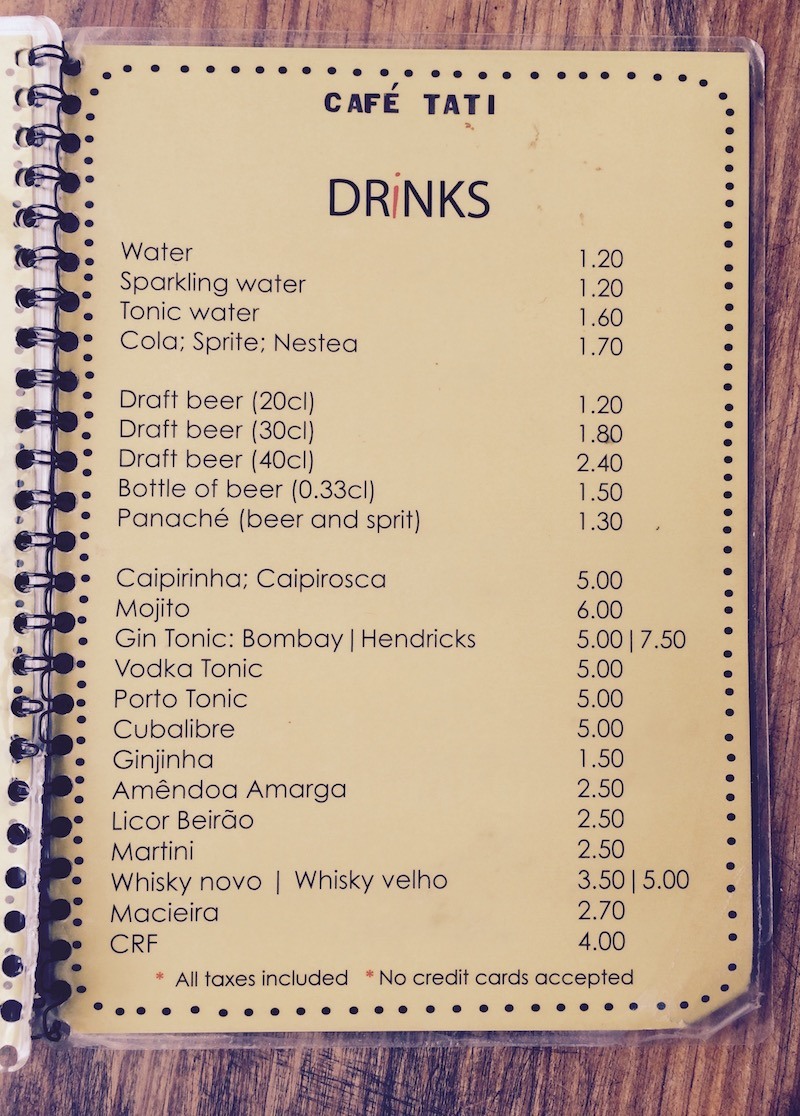 Internet Speed: There's free wifi, and it's ok (not super slow).
Starbucks
There are 2 Starbucks in the center of Lisbon. One is inside the Armazéns do Chiado mall (this is a great place to get your SIM by the way as they have 3 of the mobile carriers all on the same floor (just go down one floor)). This is a pretty small starbucks and there are no windows in there.
The other Starbucks is much bigger with outdoor seating and tons of indoor seating.
Here's the map for this larger Starbucks: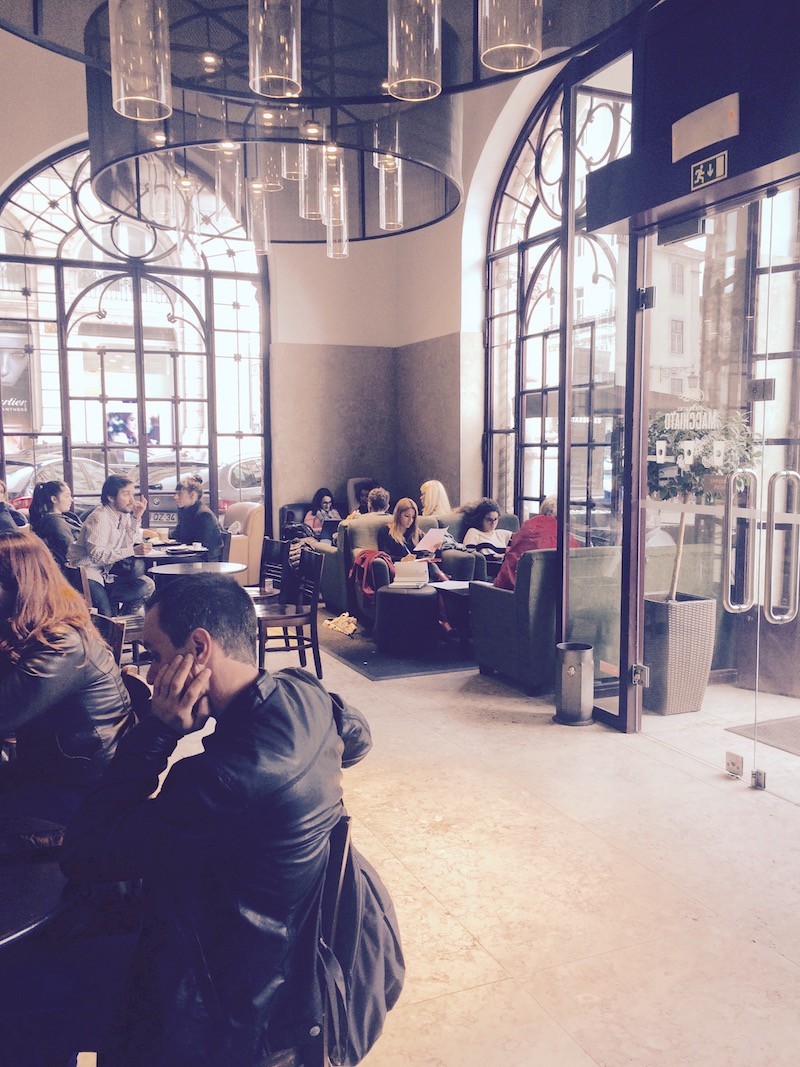 Internet Speed: There's free wifi either with FB sign in or food purchase (you can do both – each sign in is for 80MB of use). The speed isn't very fast, but it's workable.
Tease

Located across the street from Copenhagen Coffee Lab, Tease is more of a bakery/lunch place than a cafe. However, you can always find a few people in there with their laptops out. They're mostly famous for their cupcakes, so if you're into baked goods, then this might be a good place to stop in.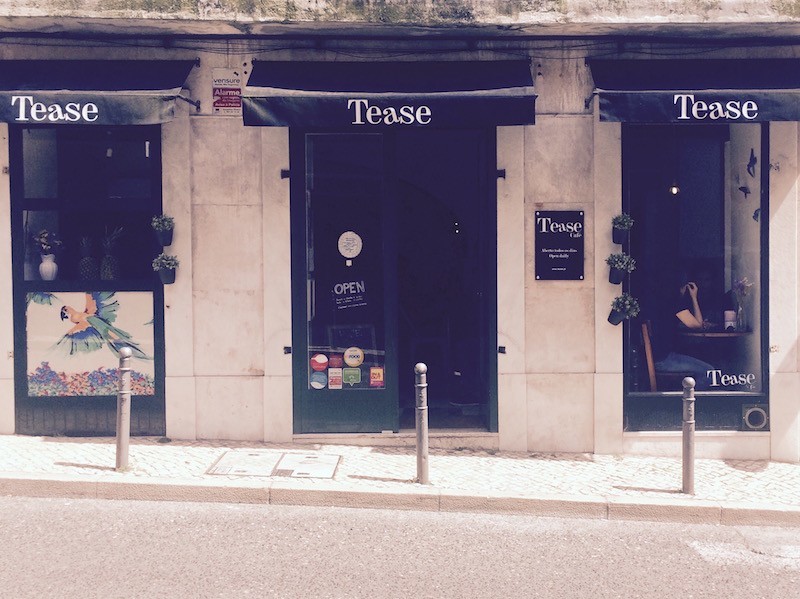 Internet Speed: There's free wifi.
Livraria Ler Devagar
This place is worth a visit even if you don't plan to work there! It's a stunning view. And you can pick up some books in English too (but most of the books are in Portuguese or Spanish). Here's a photo of the inside of the bookstore with its walls of bookshelves.
This bookstore is located in LX Factory, so it's a bit of a walk from the center of town. There's also a great Third Wave coffee shop (called Wish Slow Coffee House) next to the bookstore as well as a co-working spot (http://www.coworklisboa.pt).
And here's the menu at Wish Slow Coffee House: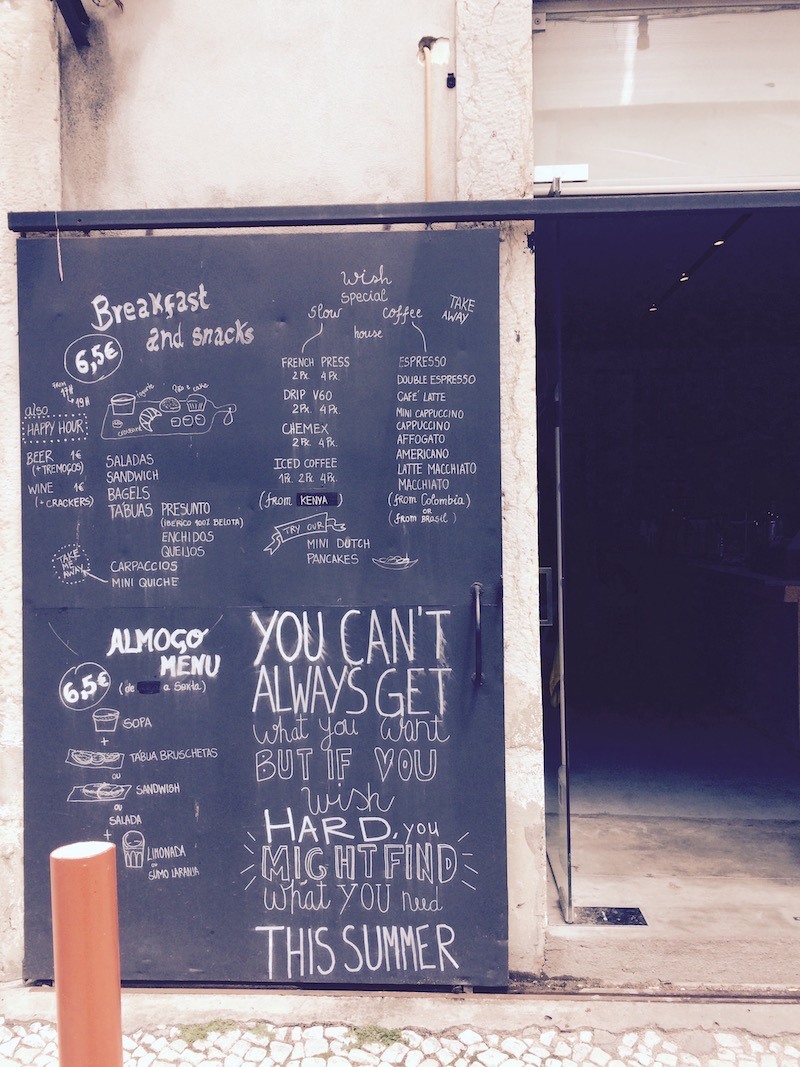 And if you're looking for food, then there are a ton of restaurants in LX Factory!
Fabrica Coffee Roasters
Portugal, R. das Portas de Santo Antão 136, 1150-265 Lisboa
fabricacoffeeroasters.com

If you don't need wifi or if you have your own wifi device, then this cafe is amazing. There's great outdoor seating in the shade by the street so you can watch people passing by, and they serve great Third Wave coffee! But sadly, no internet.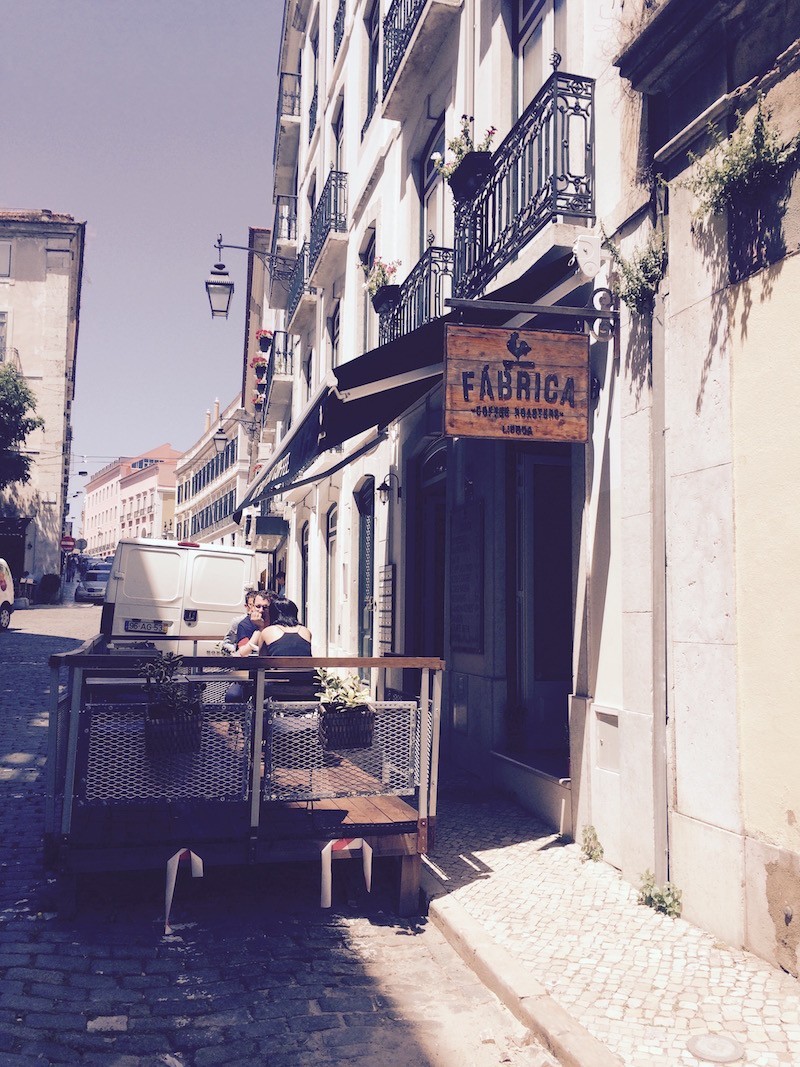 And here's Fabrica Coffee Roasters' menu: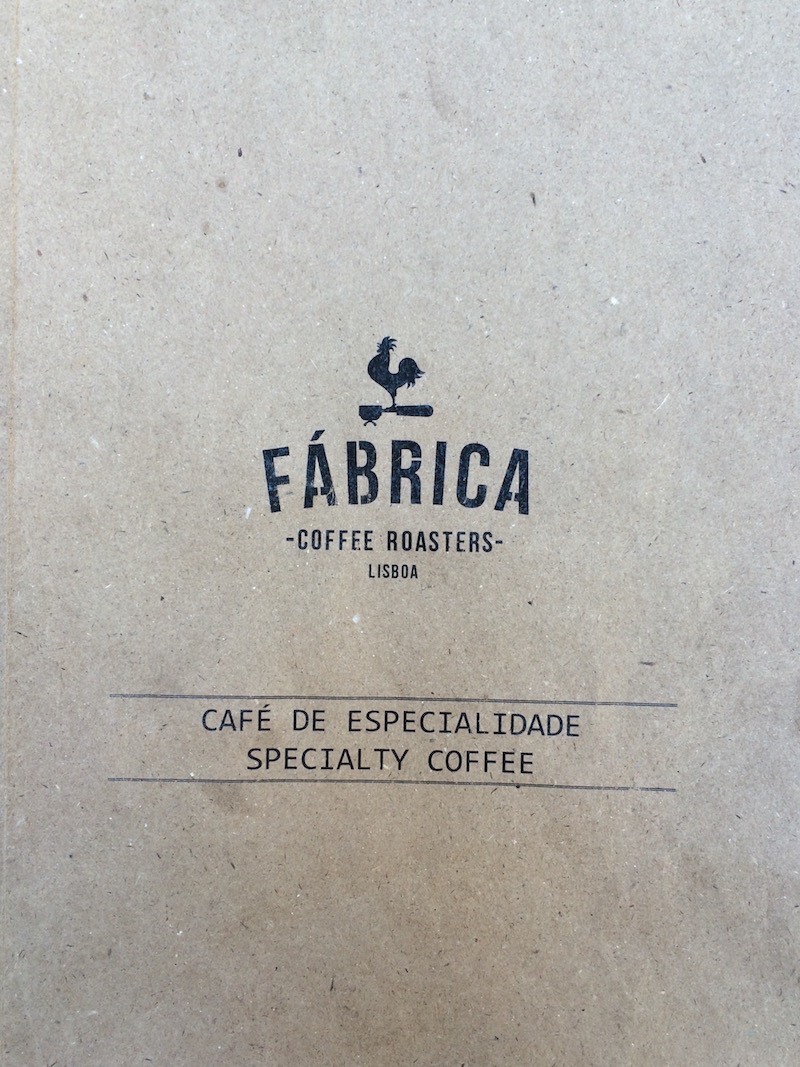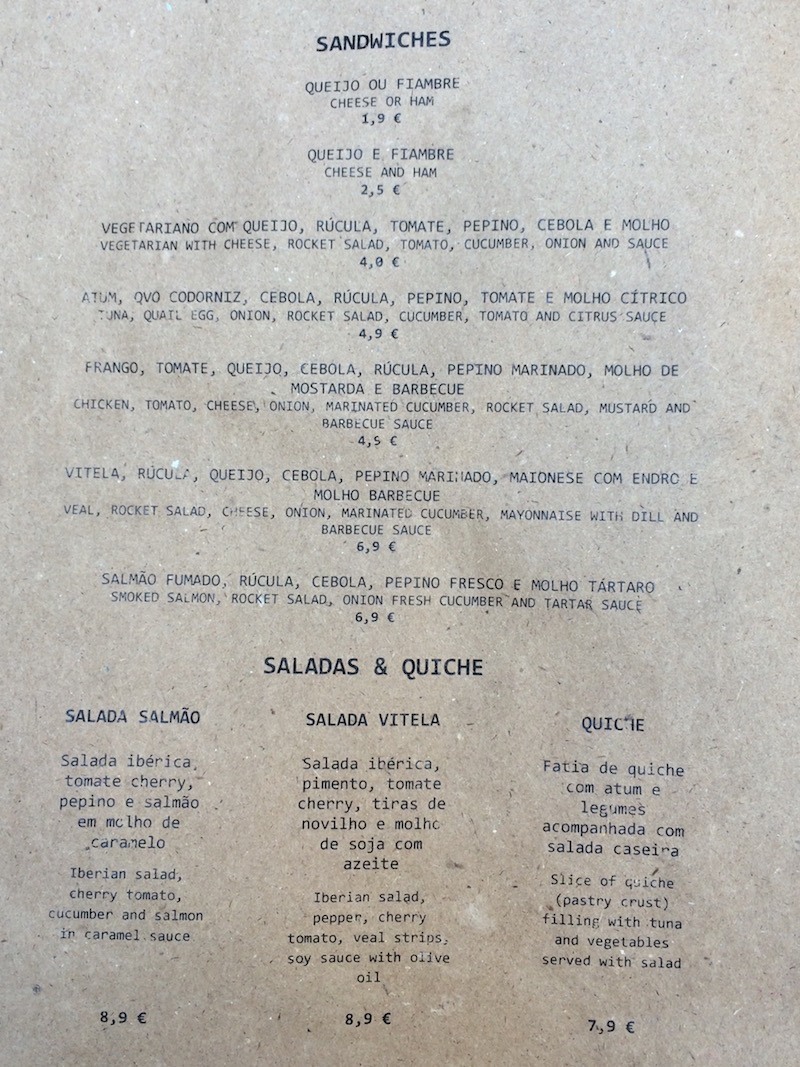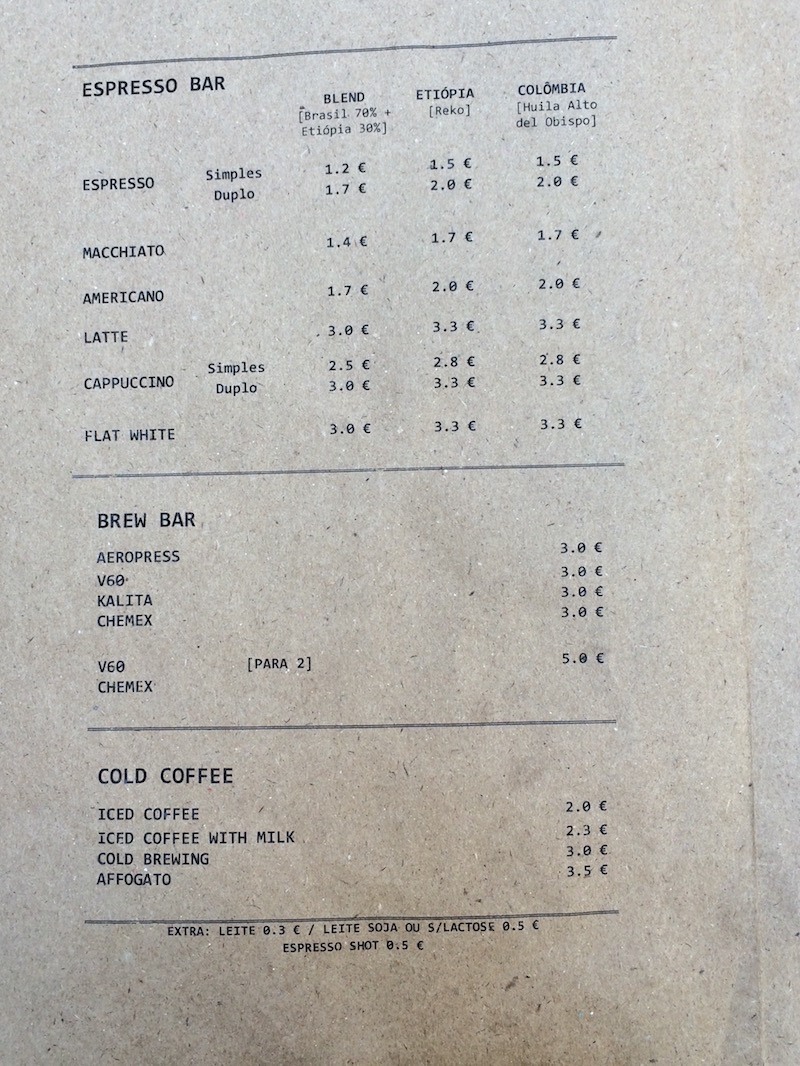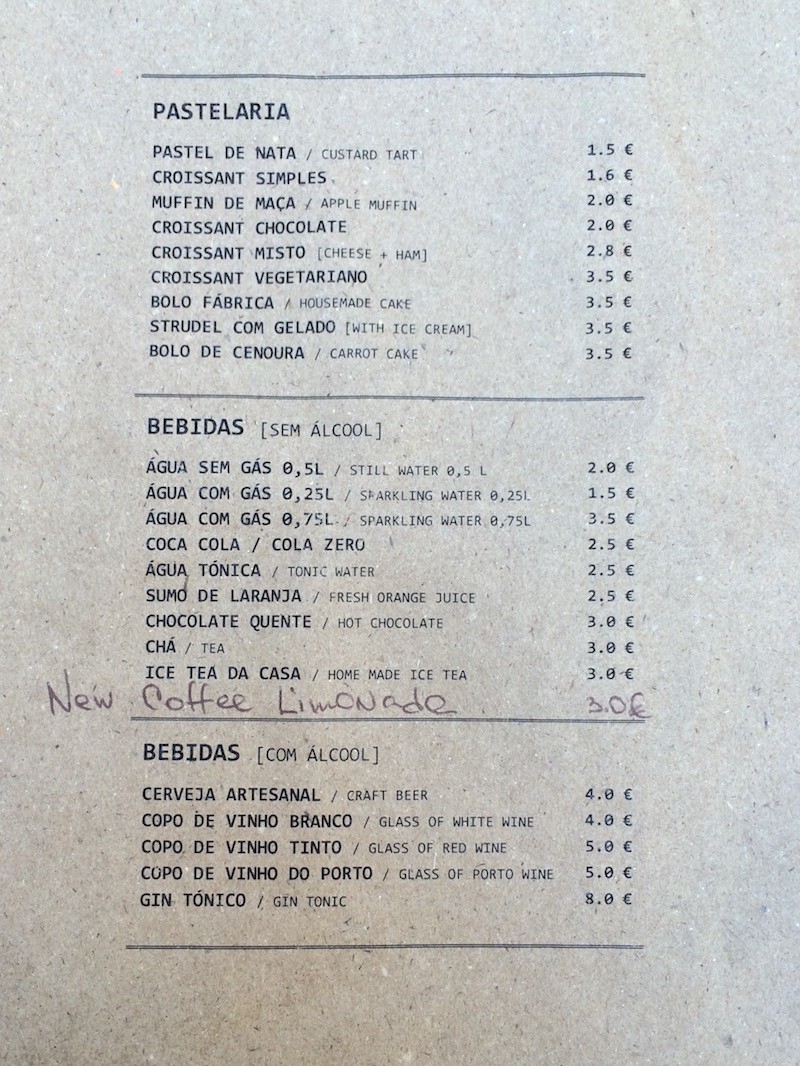 Fabrica Coffee Roasters – Chiado Location
Rua das Flores 63, 1200-193

Fabrica opened a new second location in the center of Lisbon really close to Praça Luís de Camões. There's tons of seating and the decor is very cool. Unfortunately, there's still no wifi.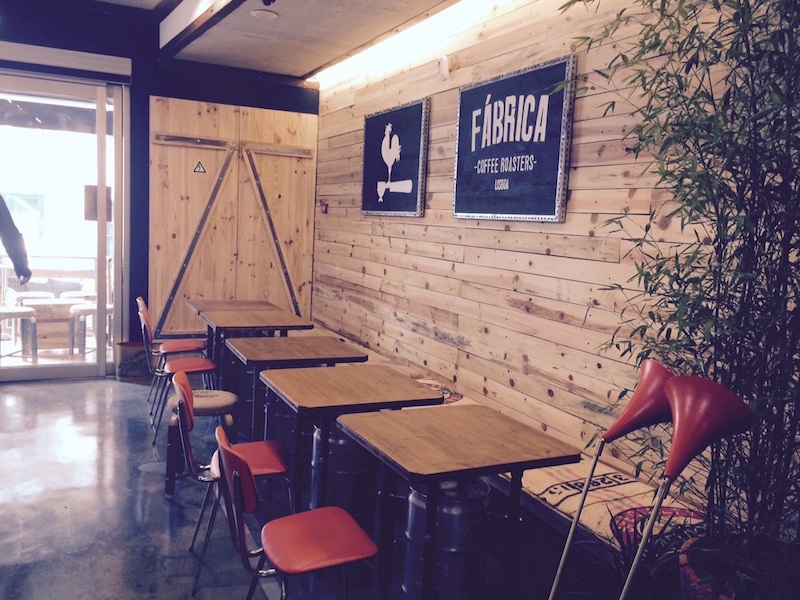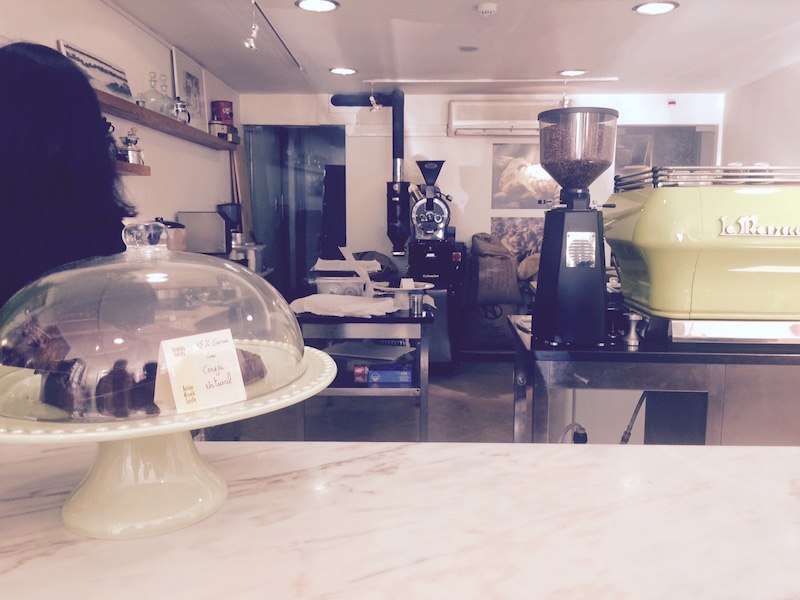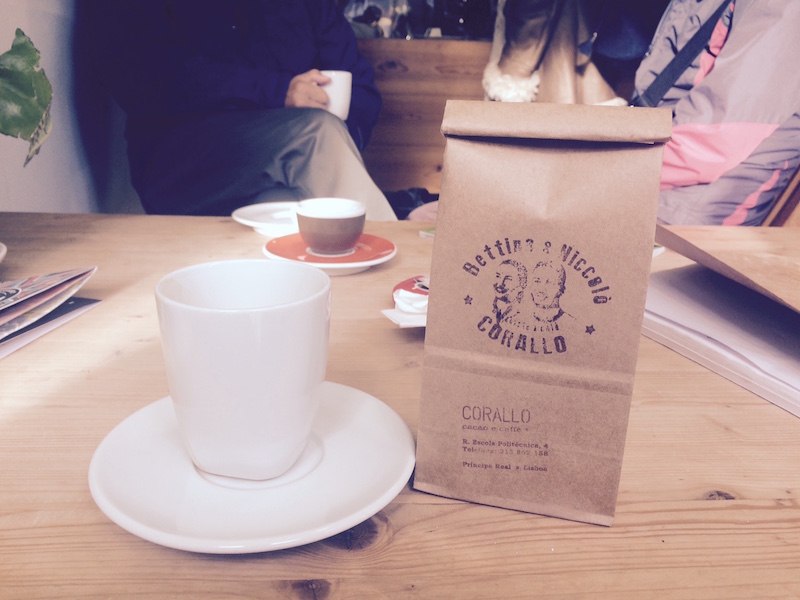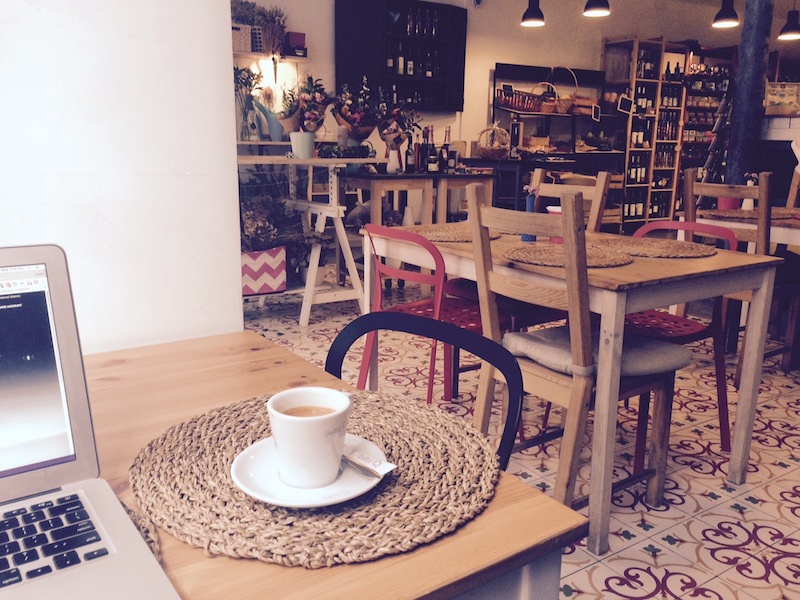 Academia Gym
Rua da Cintura do Porto de Lisboa, 1200-109 Lisboa

While this place is a gym (and it's not marked yet on Google maps, so the location is its sister complex, a dance studio that's next door), it's not a bad place to work if you exercise a lot. They've got tables, a cafe that serves lots of healthy foods (protein shakes, bars, grilled salmon) as well as coffees. And they have plenty of seating near the front desk and upstairs near the cafe. The internet is usually stronger near the front desk though.
It's a great gym if you're into working out – super clean, has a pool, tons of classes throughout the week, a sauna, squat rack, lots of weight-lifting equipment, and even an outdoor lifting area where you can lift and flip tires.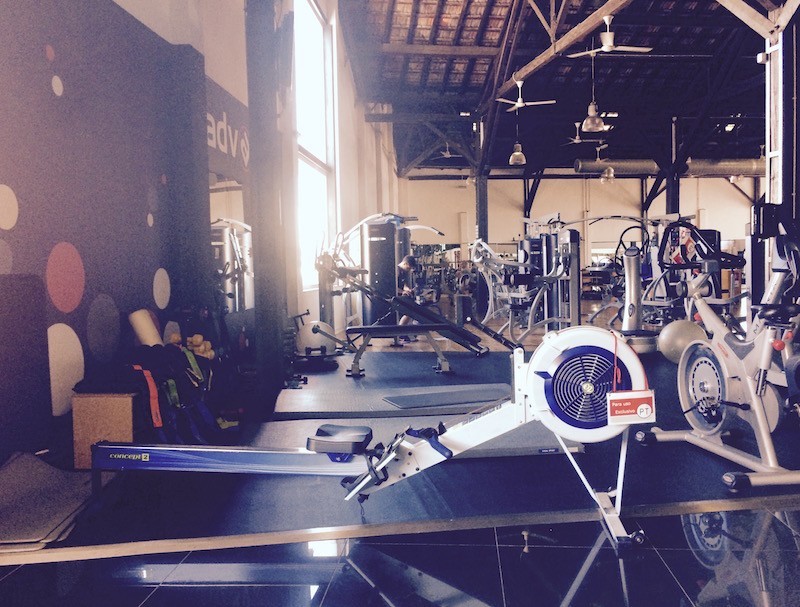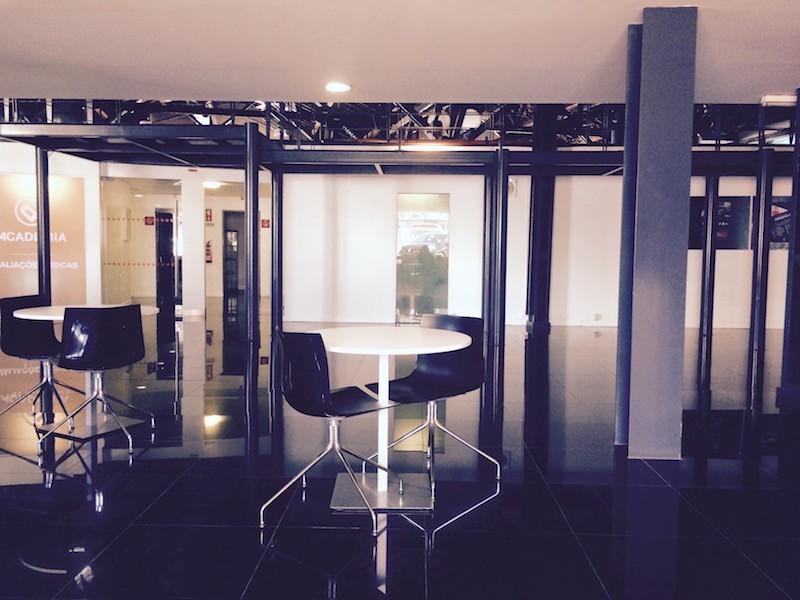 Internet speed: